The cantonment at Dagshai in the Shivalik Hills, near Solan, has an unknown gem that most tourists give a miss in their hurry to get to Shimla. It holds the Dagshai Cellular Jail which has now been turned into a museum.
The jail was constructed in 1849 and stayed in operation for well over a hundred years.
It was forgotten to history and was turned into a storage facility. When the yard was cleaned up the jail stood as strong as ever and was converted into a museum with the help of the army and Himachal Tourism.
Dr. Anand Sethi, who is an international banker and a local resident, helped by contributing to some of the exhibits and is also the curator of the museum.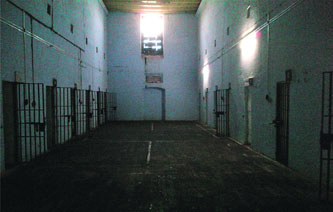 The jail consisted of 54 cells. 16 of the cells have no windows and were meant to be used for solitary confinement.
One cell is especially sinister as it is so small that the inmate couldn't even sit down, trapped between the metal bars of two doors just 3 feet away from each other. It was used to dole out the harshest punishment for the unfortunate prisoners.
Speaking of prisoners, the Dagshai Jail has seen a fair share of prisoners and executions.
The Gorkha rebels of the Nasiri Regiment, who had rebelled during the 1857 revolt were brought here.
Some Sikh ex-soldiers who tried to escape to Canada with the help of Baba Gurdit Singh were also incarcerated and hanged here. Sikh soldiers of the Ghadar Party were also executed by firing squad in Dagshai.
The most important prisoners were the Irish mutineers of the Connaught Rangers who were brought to Dagshai in 1920. Their leader James Daly was executed here. It is said that Mahatama Gandhi sympathized with the Irish revolt against British rule and took inspiration from it.
He came to Dagshai to meet James Daly and as a sign of protest spent 1 night in the jail cell. This had disastrous results for the Irish as the British decided to execute them and send a message to any Indians who were thinking of rebelling against them.
Ironically the same place where Mahatma spent a night, would also be a layover stop for his killer, Nathu Ram Godse, while he was being transported to Shimla for his hearing.
The Dagshai Cellular Jail is such a historical place that time has forgotten. Most tourists give it a miss as they don't know much about it but even the locals of Shimla and Solan are ignorant to the importance of this place. Hopefully one day it will get its deserved recognition.
Folkstones singing Connaught Ranger {Lay Him Away O'er The Hillside}